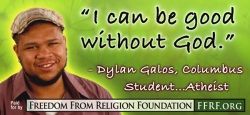 After only a week, one of the Freedom From Religion Foundation (FFRF) billboards placed in Columbus was removed after a church complained about it. Yes, we have to see church propaganda all the time but a church gets the vapors about an inoffensive billboard and the owner removes it quickly. Can you say Christian privilege?

A billboard featuring a cheerful student saying, "I can be good without God," was too much for the delicate sensibilities of a local church in Columbus, Ohio, which insisted late last week that a local billboard company remove the message.

The billboard picturing Dylan Galos, a Columbus student and atheist, was removed and is awaiting placement at an alternate eastside Columbus location.
No details on which church complained but there are at least 10 "churches" around the location of the billboard.
I guess commercial speech isn't as free as we were led to believe.
*Update*
On June 29th, the Columbus Dispatch had a follow-up article that gave the details on the issue. A church owned the land the billboard was on:
The message didn't sit well with the pastor of Christ Cathedral Church, 3350 Allegheny Ave., which owns the land where one of the billboards went up on a Clear Channel Outdoor sign.

The Rev. Waymon Malone ordered it removed, said Carolyn Kelley, his mother-in-law. Malone and his wife, Kimberlee, were out of town today and could not be reached for comment.

"It upset him because of what it said," Kelley said. "It said we don't need God, and we're at church, so we do need God."

The billboard was removed days after it was installed on June 21, said Jay Schmidt, account executive for Matrix Media Services.

It was reposted on E. Main Street, just west of Alum Creek Drive, visible to eastbound traffic, Schmidt said.

Schmidt helped the Freedom From Religion Foundation find the billboard locations but didn't realize that the Galos billboard was on church property. That billboard is visible from Stelzer Road north of Allegheny Avenue, just as Stelzer turns into James Road.

He called it "an unfortunate oversight" by Clear Channel, whose representatives did not return messages seeking comment.
Still the pastor overreacted.
*Update 2*
Here is a video of the incident broadcast on a Columbus station on June 29th:
FFRF's atheist billboard in Columbus causes problem for church
https://www.youtube.com/watch?v=R3YvZiyo8QA