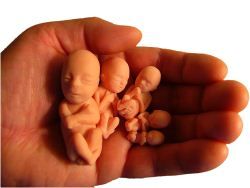 It should be no surprise that the Catholic Church has been working hard to stop abortions in the US by supporting laws that would prevent women's reproductive choice. The church seems to care about the fetus more than the mother. That's except when the issue of money comes up. As defendants in a malpractice lawsuit in Colorado the church is trying to hide behind a state law that says a fetus is not a person which is the opposite of its general view point on abortion.

Lori Stodghill was seven months pregnant and weighed close to 400 lbs, on New Years Day 2006, when she didn't feel well. It was a holiday and her obstetrician told her to go to the emergency room at nearby Catholic run St. Thomas More Hospital in Cañon City. By the time her husband, Jeremy, had parked the car and returned to the ER, his wife was struggling for life due to cardiac arrest and a pulmonary embolism. Later, Lori and her unborn twins were pronounced dead. A couple years later Jeremy sued the hospital and doctors.
But the hospital and the organization that operates it — Englewood-based Catholic Health Initiatives, which operates 78 Catholic hospitals in seventeen states, including nine Centura Health hospitals in Colorado — have argued that nothing could have been done to save Lori.

Furthermore, the organization has repeatedly asked judges — in Jeremy's initial lawsuit and on appeal — to dismiss the wrongful-death claims with regard to the twins based on a legal argument that would seem to contradict the teachings of the Catholic Church: that is, that a fetus is not a person.

But Sister Maloney says that the intersection of religious beliefs and law isn't that simple.

The hospital's attorneys aren't "trying to argue whether unborn children should be recognized as persons," she says. "They're just arguing that they are not in Colorado law."

She points out that Colorado voters have twice rejected, in 2008 and 2010, so-called personhood amendments that would have defined the word "person" as indicating any human being from the moment of conception. Catholic leaders didn't support the pro-life measures because they didn't think a constitutional amendment was the solution.

Is a fetus a person? The Colorado Supreme Court may have to decide.
Basically the church is arguing that the fetus isn't a person if the church is subject of a lawsuit that may cost them money.
This is similar to other conservatives who want to ban abortion but also don't want to spend money to help support the children after they are born by cutting funding for food stamps and head start for example.
Not only is the church argument hypocritical of its teachings but it wants to get out of a lawsuit by doing something it doesn't want women to do – making a choice.
(H/T The Friendly Atheist)