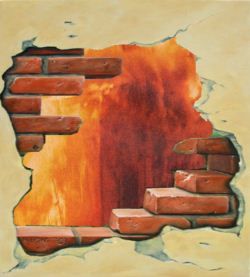 The Catholic church and other religious conservatives are suing the government to invalidate the new health care regulation that forces them to provide insurance coverage for birth control for non-clergy workers. This follows the recent history of legal religious accommodation like the Religious Freedom Restoration Act. But these attempts to knock down the wall of separation of church and state leads down a road I don't think most people have thought about in trying to roll back religious neutrality.

The family of 22 year-old Raheela Sehto had already made their fury at her marriage to Zulfiqar Sehto – a love match struck without their permission – abundantly clear. They reacted by filing a claim with local police that their daughter had been kidnapped by her 30-year-old husband, a life-long neighbour who had wooed Raheela over the years, although largely through clandestine mobile phone conversations.

Her uncle had tried to throttle her with a scarf at an earlier appearance at the high court in Hyderabad in July. The couple had petitioned the court for its protection and to try and have the kidnapping charges thrown out.

But Sehto, a university graduate working for the local electricity company, said they felt they had no reason to fear for their lives in court, even when in the earlier part of the morning he was sitting almost directly in front of his wife's eventual killer, Javed Iqbal Shaikh, her brother.

Shortly after the two judges had returned to their seats after a break, Shaikh, dressed in the black suit and tie of his profession, produced a gun he had smuggled into court, lunged at Raheela and shot her point-blank in the left side of the head.

Pakistan: Wife in disputed marriage gunned down in court by her brother
That's right. One overlooked consequence of allowing religious exemptions from basic laws could lead to things like ritual killings or Female genital mutilation.
There have been a few ritual killings already in the US and those are just the ones reported in the media.
It is obvious that religious conservatives aren't thinking about the consequences of their work. One big example was in Louisiana when it passed a law allowing school vouchers to attend sectarian schools. One Republican lawmaker was shocked to learn the vouchers could be used for children to attend Muslim schools.
"I actually support funding for teaching the fundamentals of America's Founding Fathers' religion, which is Christianity, in public schools or private schools," Hodges told the Livingston Parish News.

"I liked the idea of giving parents the option of sending their children to a public school or a Christian school," Hodges added.

The newspaper reported that she "mistakenly assumed that 'religious' meant 'Christian.'"

"Unfortunately it will not be limited to the Founders' religion," Hodges told the News. "We need to insure that it does not open the door to fund radical Islam schools. There are a thousand Muslim schools that have sprung up recently. I do not support using public funds for teaching Islam anywhere here in Louisiana."

Louisiana Revelation: School Voucher Funding – It's Not Just For Christians Any More
So if you don't want honor killings, FGM, or radical Islamic schools then we all need to support a strong wall between church and state.