Welcome
Listen for FREE here or on your favorite podcast app
Our Current Episode
Show Notes:
Recent Episodes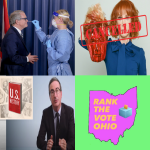 The Fight For Governor Dewine's Soul
(8/10/2020)
-
In this episode Doug talks about the soul of Governor Mike Dewine and why he wants to see us all dead. Doug looks at the fake outrage called cancel culture and like Big Foot, he can't find it where people say it is. Finally, he brings up a recent John Oliver show about the Whitewashing… …
Why Is There No Fort Grant?
(6/22/2020)
-
In this episode, Doug asks why there are no millitary bases named for President Ulysses S. Grant who won the civil war for the north and the weak arguments people make to support keeping Confederate symbols. He talks about the wild complaints about wearing masks one California county government heard, and then shines a bright… …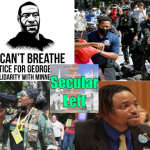 George Floyd, Pandemic Inequality, ending the bail system
(6/3/2020)
-
In this episode, recorded before the murder of George Floyd, Doug talks to activist Julian Mack, spokesperson for Community Solidarity Response Network of Toledo, about how the pandemic actually ripped open and laid bare the existing inequality we have in this country. We talk about the reforms needed in the criminal justice system including the… …
---
How Can You Support This Show?
Listen – the biggest support is to subscribe and listen to the show
Share – share links to the show with friends and family
Comment – gives us your comments, complaints, and topic ideas through the website or through comments@secularleft.us
Follow us on social media
Give the show a review online or your favorite podcast app
You can also Buy Me a Coffee
Buy me a coffee
Sign Up For Our Newsletter
If you want to know when episodes are published before they get listed in the various directories, or if you want to read some news and information we think you might be interested in, then subscribe for our email newsletter.
---
Blog Posts
In the Spring of 2020, Secular Left transitioned to focus on a podcast but there are still written blog posts available to read here (just click on the categories listed below). In the future there might be more written blog posts. You can also use the search bar at the the top of the page to look for any blog post here.