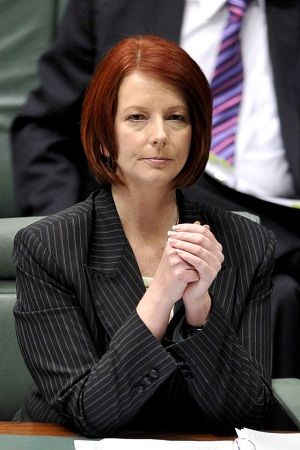 I was shocked when I learned that new Australian Prime Minister Julia Gillard doesn't believe in God. This is why I need to live either in Europe or Australia since they aren't hung up on their politicians and religion. What shocked me even more is she was quoted in an interview by the Australian Broadcasting Corporation (ABC) and it was made public. Good on her and Australia.
Prime Minister Julia Gillard says she has no intention of pretending to believe in God to attract religiously-inclined voters.

Former prime minister Kevin Rudd was a regular at Canberra church services and Opposition Leader Tony Abbott is known as a devout Catholic.

In contrast, Ms Gillard says that while she greatly respects other people's religious views, she does not believe in God.

Ms Gillard has been quizzed on personal topics including her attitude to religion and her relationship with her partner during interviews this morning.

She says does not go through religious rituals for the sake of appearance.

"I am not going to pretend a faith I don't feel," she said.

"I am what I am and people will judge that.
*Update* After posting this entry I heard that PM Gillard is opposed to gay marriage. Below is a quote and link to a newspaper article that confirms her view. While I am happy that she is an atheist, there isn't a valid secular reason to oppose gay marriage. Tax implications and protecting children are red herrings and have roots in religious bigotry.
Prime Minister Julia Gillard says she does not support legalising gay marriage in Australia.

Labor policy on gay marriage will remain the same under her prime ministership, Ms Gillard told Austereo show today.

"We believe the marriage act is appropriate in its current form, that is recognising that marriage is between a man and a woman, but we have as a government taken steps to equalise treatment for gay couples," Ms Gillard said.
Advertisement: Story continues below

Asked if that was also her personal view, Ms Gillard said it was.
Maybe one day we will have the perfect atheist elected official.