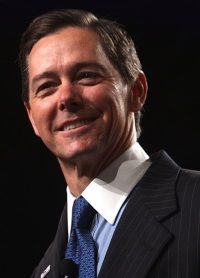 Ralph Reed former head of the right wing Christian Coalition, which continually violated federal election and tax laws during his leadership, is back with a new organization trying to link the religious right and the Republican party. The group called "Faith and Freedom Coalition" is holding a conference this weekend in Washington DC. This shows once again that religious right criminals never have to pay for their crimes.

Ralph Reed's job was simple: Get the grassroots stirred up and shaken so they would get active and oppose whatever it was his firm, Century Strategies, was paid to oppose. His partner, Tim Phillips, now director of Freedomworks, worked alongside Reed, but the strategies and interaction with Abramoff was strictly between Reed, Abramoff and Scanlon.

Ralph Reed should have gone to jail along with his buddy Jack, and by all rights ought to be slinging pizza in the outer reaches of south Georgia right about now. Instead, he's taken a run at the Lieutenant Governor spot in Georgia and runs Century Strategies, and now the Faith and Freedom Coalition as well. He is not repentant. He makes no apologies for what he did. Also? He made millions.
I just threw up in my mouth a little… ugh!
These cheap labor conservatives, religious right, and tea party people are all interconnected in some way and their agenda has nothing to do their stated religious beliefs because if it did there wouldn't be so much money being laundered to steal our democracy, attack women, or hurt poor people.
Don't believe me? Read the Bible.