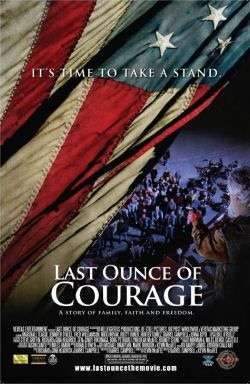 I saw the TV ads for a new film called 'Last Ounce Of Courage' the other day and noticed Jennifer O'Neill and Fred Williamson were in it so I decided to check out the trailer and information on the film. I was actually shocked. The message of the film seems to be equating military death in war with being able to subvert the 1st Amendment that keeps church and state separate.

Bob Revere, played by veteran actor Marshall Teague, is a decorated war hero and the part-time mayor of a small town. But his life drastically changes when his son Tom goes off to war and is killed. Adding to his pain, Tom's young wife – who had just given birth to their son Christian – drifts away from the family in her grief.

After 14 years, however, Christian and his mom decide to come back into the Reveres' life one holiday season, looking for the family they desperately need and miss.

When he settles into the community, Christian finds himself chastised for bringing a bible to school and observes Christmas being ignored or secularized when once it was celebrated by locals.

One day, Christian asks his grandfather what his father had died for. When Bob has no quick answer, they both start down a road to find the answer's they have been hiding from. Soon, all three generations of Reveres take a stand for their beliefs and end up inspiring an entire town.

The screenwriter's father was a Sergeant in the U.S. Army during World War II and his brother, Campbell's uncle, lost his life in that same war. Campbell said he wants the film to prompt audiences to ask "what can I do to make sure their sacrifice is not in vain?"

'Last Ounce of Courage' aims to fuel dialogue on religious freedom
So… we have a small town mayor who defies the 1st amendment and puts up religious Christmas decorations on public property and this inspires the town… sounds a lot like the plot to a previous on-the-nose anti-religious freedom film "Christmas with a Capital C" from 2010.
What really troubles me is the take from the trailer that our soldiers died in wars so Christians can force their beliefs on others and if you don't erect religious icons on public property then some how you are dishonoring the dead or that only Christians can die honorably in war.
That is just sick.
By the way there is no law against students having Bibles in school. They can even pray of they want to.
But then Chuck Norris approves of the film so that's all you need to know there.
—
"Last Ounce of Courage" CHRISTIAN trailer (for churches)
This is not the trailer they are showing in theaters or on TV where the actual topic of the film is hidden… I wonder why?