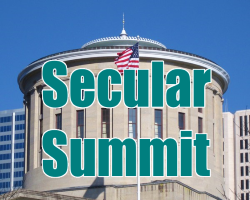 On February 10th I attended Secular Summit 4.0 at the Ohio State House in Columbus. It was hosted by CFI NE Ohio. It was the second lobby day I attended and this time I tried to as prepared as I could be to speak to my representatives. Secular people need to do more in person lobbying of our elected officials in addition to phone calls, written messages, and blog posts.

The Secular Summit is a chance for secular people around Ohio to get together for a morning meeting then in the afternoon we have appointments with our state representatives and senators.
Speakers at this year's summit included:
Amanda Knief, National Legal and Public Policy Director for American Atheists, author of The Citizen Lobbyist: A How-to Manual for Making Your Voice Heard in Government talked about the campaign for a Right to Know Act.
It would require health providers to inform patients if they would not provide any medical procedure due to religious beliefs.
Ohio State Senator Michael Skindell, 23rd District, stopped by to talk to us about SB-50, the Secular Celebrant bill he introduced at the beginning of the session last year.
Michael De Dora from the CFI Office of Public Policy gave a short training session on how to lobby an elected official.
Nancy Starner from Preterm and Stella Shaw from Planned Parenthood updated us on the continuing efforts of the Ohio Legislature to restrict abortion rights. The day of the summit, the Ohio House passed a bill defunding Planned Parenthood making it the 18th anti-abortion law to be signed by Ohio Governor John Kasich since he took office.
I got to speak to my state Senator since a meeting he was suppose to attend at the time of my appointment was canceled. You can check out my personal blog for more details on my meeting with him. (coming soon will update with link when it posts)
In general, you will speak to a staff person and that is okay. They will take notes and any printed material you have and pass it on to the elected official.
I really recommend Amanda Knief's book "The Citizen Lobbyist". It was a short read and really helped me get ready for my first time speaking to a legislative staff.
From materials given to us by CFI NE Ohio there are two good websites you can use to track legislation.
Open States will track state-level legislation and GovTrack can track federal-level legislation.
I got tired of learning about bills when they were reported in the newspaper and I want to get ahead of the curve so my voice has more of a chance of being heard. The two websites mentioned above allows you to follow bills, lawmakers, and get alerts based on keywords.
You can also get involved with a group who also organizes action alerts and lobbying about legislation. CFI, Americans United for Separation of Church and State, and Secular Coalition for America have chapters in most states for local and state issues too.
To be sure, with the religious privilege and political divisiveness in this country today, getting secular issues to be adopted is a long game. Persistence is a virtue.