While watching local TV news on March 21st, during a story about a Genoa Ohio high school student who died in a traffic accident, the station reporter interviewed Cari Buehler, the high school principal, in front of a sign with an 'inspirational' message on it. Too bad it was a religious message. Now the Freedom From Religion Foundation (FFRF) is asking the school district to remove the sign.

The interview was on WTOL in Toledo, Ohio and the screencap below shows the religious sign.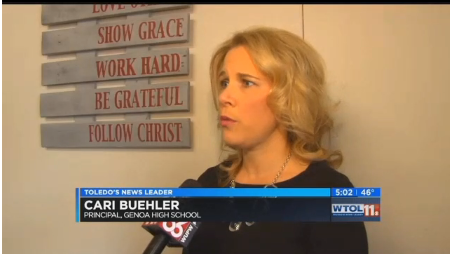 The interview took place at Genoa High School and was confirmed by the reporter who did the story. While the message on the sign is inspirational to some people, it has no place in a public school. Religious messages should be at church or in the home.
FFRF sent a letter this week asking the sign be removed:
It is our understanding that a sign hanging in Genoa High School reads "FOLLOW CHRIST." An image of the sign is enclosed for your review.

It is unconstitutional for Genoa Area Local Schools to encourage its students to "Follow Christ," in effect encouraging non-Christian students to convert. We write to request that this sign be removed immediately.

The District violates the Establishment Clause of the First Amendment to the U.S. Constitution when it allows its schools to display religious symbols or messages.

…

This religious display is particularly inappropriate given that nearly 30% of Americans are non-Christians, either practicing a minority religion or no religion at all, and about 44% of millennials are non-Christian." The display alienates those students, families, teachers, and members of the public whose religious beliefs are inconsistent with the message being promoted by the school.

FFRF Letter to Dr. Michael Ferguson Superintendent Genoa Area Local Schools 04/25/2016
Clearly the sign needs to be removed. I will let you know of any updates when I hear about them.
---
*Update 5/5/2016*
Happy National Day of Reason!
FFRF was notified today, 5/5/2016, which happens to be the National Day of Reason, that Genoa schools removed the "Follow Christ" sign.
As you can see in the screencap of the response letter they didn't seem happy about it: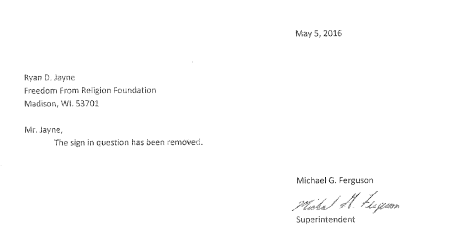 The text only included the line:
The sign in question has been removed.
FFRF was also informed that students at the High school seem to be selling T-shirts to "save" the sign.
As long as the school isn't leading that action then there is nothing wrong with the sale.