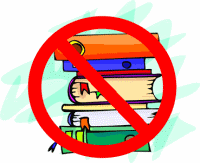 The Republic Missouri school district voted 4-0 with 3 absent to remove two books from the high school curriculum and from the library. The books were removed after a single complaint that challenged the use of the books and lesson plans in Republic schools, arguing they teach principles contrary to the Bible. The decision forced the theistic beliefs on all the children who will now not be able to get the books from their school library or study them in class. Can you say hypocrisy?

The two books were "Twenty Boy Summer" by Sarah Ockler and "Slaughterhouse Five" by Kurt Vonnegut.
Superintendent Vern Minor said the vote brings a conclusion to the complaint filed a year ago.

"We very clearly stayed out of discussion about moral issues. Our discussions from the get-go were age-appropriateness," he said.

"The discussion we've been having was not are these good books or bad books … It is is this consistent with what we've said is appropriate for kids."
Obviously they did decide based on moral issues because the reasons they gave for removing the books was for language, sex, and violence. The Ockler book was banned because it was "sensationalizing sexual promiscuity."
But then the Superintendent said:
"I just don't think it's a good book. I don't think it's consistent with these standards and the kind of message that we want to send," he said. "…If the book had ended on a different note, I might have thought differently."
That is a moral decision. The school board adopted some standards but they don't take the artistic value of the work into consideration at all. That is what happens when you mix church and state in these kind of situations – the art and context are left out. Besides there is worst things a child sees in other media. People like Superintendent Minor believe they are "protecting the children" when the children probably know more then the adults think they do.
Wesley Scroggins, with an assist from the school board, was allowed to force his beliefs on all the children of the district no matter how their parents felt about it. How arrogant of Scroggins to assume everyone has the exact same beliefs as he does.
It is big time hypocrisy in my book.
The better way to handle the issue is if a book is controversial, it should be noted and parents notified. Require the parents to sign-off on their child to read or study the book in question. Then those who have different beliefs can opt-out while letting the other children to read and study it.
*Update*
According to a UPI report only one of the four school board members actually read all three books under review.
That adds to the argument that the censorship was based on religious considerations.