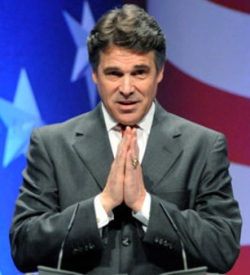 Texas Governor Rick Perry, a Republican, announced his intention to run for President of the United States. His overt religious views are a big concern. He recently hosted a prayer event in Houston's Reliant Stadium that included major religious right groups like the American Family Association, people like Tony Perkins, president of the Family Research Council and others. He has called on prayer to solve Texas' drought and also for our current nationwide economic problems. It hasn't worked yet.

Then the governor prayed, publicly and often. Alas, a rainless spring was followed by a rainless summer. July was the hottest month in recorded Texas history. Day after pitiless day, from Amarillo to Laredo, from Toadsuck to Twitty, folks were greeted by a hot, white bowl overhead, triple-digit temperatures, and a slow death on the land.

In the four months since Perry's request for divine intervention, his state has taken a dramatic turn for the worse. Nearly all of Texas is now in "extreme or exceptional" drought, as classified by federal meteorologists, the worst in Texas history.

That was a warm-up of sorts for his prayer-fest, 30,000 evangelicals in Houston's Reliant Stadium on Saturday. From this gathering came a very specific prayer for economic recovery. On the following Monday, the first day God could do anything about it, Wall Street suffered its worst one-day collapse since the 2008 crisis. The Dow sunk by 635 points.

Prayer can be meditative, healing, and humbling. It can also be magical thinking. Given how Perry has said he would govern by outsourcing to the supernatural, it's worth asking if God is ignoring him.
It doesn't matter if Governor Perry is religious or even a believer but he shouldn't be holding religious events or praying to solve problems and especially if he is doing it as the Governor. Political and social problems need action and not magical thinking. That magical thinking hasn't worked yet.
Getting drunk would work just as well.