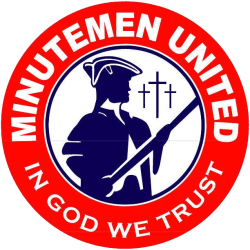 Minutemen United is a religious fundamentalist group whose previous claim to fame is supporting illegal religious activities in public schools. Now it seems the group is going after a church for not acting extreme enough toward same-sex marriage and abortion. The group has been protesting at Vineyard Columbus since October 2012. The church filed for a restraining order against the group claiming it was trespassing on church property. Minutemen United is trying to twist the complaint as an attempt to violate their 1st amendment rights while it as all the looks of a publicity stunt.

The Rev. Rich Nathan, senior pastor of Vineyard Columbus, said he and his congregation are tired of "baffling hate speech" and inappropriate behavior that members of Minutemen United have directed at church members.

Minutemen has been protesting the church's "passive resistance" to abortion and gay marriage each Sunday for five months, said James Harrison, its local leader.

Harrison said the church does not speak out against homosexuality and abortion, helps women recover from abortions and accepts gay members. Harrison's group is targeting Vineyard because it has about 8,500 members.

Vineyard, 6000 Cooper Rd., in Westerville, is an orthodox, evangelical church with a mission of having "broad and inclusive" boundaries clearly stated in the Bible.

Nathan said the church is anti-abortion and against gay marriage and last year helped deter as many as 300 single mothers from having an abortion.

The church sought the order, Nathan said, because Harrison's group has been protesting for months and has become aggressive, shouting at churchgoers and passing cars. Protesters also installed large signs on church grounds with pictures of aborted fetuses.

Nathan said those images have been traumatic to children.

Earlier this year, a Vineyard member got into a physical fight with a demonstrator who was videotaping church members' cars and license plates.
Sure, if a church is not tar-and-feathering gays or stoning women who have had abortions then they need to be protested??? That's different.
In case you don't know, Minutemen United is a religious fundamentalist group who likes to support illegal religious activities in public schools.
A temporary restraining order was granted and a hearing on an injunction is set for August 1st.
While Vineyard Columbus isn't trying to prevent what Minutemen are saying, the group is trying to twist it into a 1st amendment case.
In its complaint, the church said that its property runs to the center line of Cooper Road and that the city owns a 30-foot easement extending onto the property.

Minutemen United contends that the easement includes a public right of way where members can gather. Vineyard wants the judge to restrain the group from entering church property, "which shall include the grassy shoulder that abuts the edge of Cooper Road."

The church's attorney, Drew Campbell, said the case is about property rights, privacy rights and public safety.

"The church has an ownership interest in that property, which sits in a residential neighborhood" on a busy street, he said. The protesters "can say whatever they want, but not wherever they want and not however they want."

The Minutemen think that "if we're right about the public right of way, it goes from being a property case to a First Amendment case," Condit said outside the courtroom. "If the First Amendment kicks in, (the Minutemen) are completely protected."

Minutemen get time to challenge protest ban at Vineyard church
So if the group loses the case and are prevented from protesting on church property then they will complain about their 1st amendment. It seems like a long winded publicity stunt.
While I think they should be allowed to protest, their methods like recording license plates and putting up images of aborted fetuses cross the line. But then extreme groups like Minutemen United aren't about common decency.
---
*Update* 08/28/2013
Minuteman United lost their case in court:
"A Franklin County judge issued a ruling today that forbids a conservative Christian group from demonstrating on land in front of Vineyard Church on the Northeast Side.

The protesters were trespassing when they gathered and placed signs in a grassy area along Cooper Road, Common Pleas Judge Charles Schneider wrote in a 17-page decision.

The group, Minutemen United, argued that it was operating within the public right of way, but the judge ruled that the right of way ends at the edge of Cooper Road. No curbs or sidewalks are along that stretch of road.

"Due to the absence of a sidewalk, a berm or a shoulder on Vineyard's property, the city has a prescriptive easement only to the edge of the pavement," the judge wrote. "The right of way can be no larger."